West Jordan Roofing Services
Jordan River Roofing works with both residential and commercial roofing needs in Salt Lake County. We offer free estimates, and you can reach us at (385) 442-9482 or via our online contact form. Our services include:
Roof Replacement & Repair
When it comes to roofing repair and replacement, homeowners have to consider not only their short-term needs, but also their long-term investment. A quality roof offers protection from weather conditions, and often adds value to the property. Jordan River Roofing takes pride in providing both top-notch roofing work, along with the guidance customers need to make informed decisions about their roofing projects.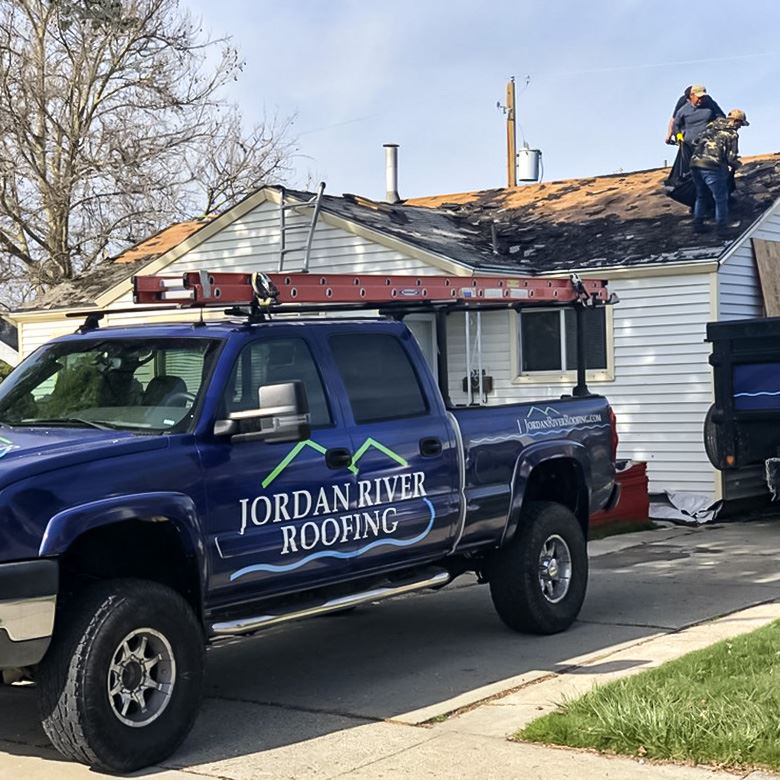 The Reviews Are Flowing In See What Our Past Customers are Saying
At Jordan River Roofing, your satisfaction is our priority! See for yourself what our customers have to say about working with us.
"Seriously top notch service."

We are in the process of selling our house and during inspection a leak in our roof was reported and needed to be taken care of right away. Highly stressful situation. I gave Jordan River Roofing a call and they were out the very next day!

- Kristen P.

"Wow. Excellent service and an incredibly responsive team."

Wow. I went from someone who knows nothing about roofing, to feeling quite confident that I made the best decision possible. I am very grateful for the education, the excellent service, and the reasonable price.

- Amy B.

"I cannot say enough good things about this company."

I cannot say enough good things about this company. From the moment you meet Phil you are filled with confidence in his expertise and trustworthiness. His team was professional, and courteous, and performed work of exceptional quality.

- Deni W.
Inspection & Routine Maintenance Services
An ounce of prevention is better than a pound of cure. That's true with our personal health, and it's true with the health of our roofs. The West Jordan roofing technicians from our office are experienced and knowledgeable in recognizing even the smallest signs of wear or damage to the roof.
Routine maintenance should be a priority in keeping the roof in top condition, with inspections often being necessary for insurance claims or when buying a new property. We offer comprehensive services, so don't hesitate to contact Jordan River Roofing at (385) 442-9482 or fill out our online contact form to get a free estimate.
Attic Ventilation
At Jordan River Roofing, we understand the importance of attic ventilation and the numerous benefits it can bring--from increasing the property value to improving air quality. Without proper air flow, moisture can accumulate in the attic, resulting in mold and mildew growth that can weaken structures and make breathing difficult. For people with a pre-existing respiratory condition, mold or mildew in the air can present serious health problems. To keep a home safe and healthy, trust our West Jordan roofing service professionals to deliver top-quality attic ventilation services.
Commercial Roofing Service
A faulty roof can cause a variety of issues for businesses, including decreased productivity and an uncomfortable work environment. Leaks and poor air quality can be a health problem for employees, and that health problem can turn into a liability risk for management. Furthermore, a weak roof can also diminish the resale value of a commercial property, just as it would a residential one.
Salt Lake County Roofing You Can Rely On
When you choose Jordan River Roofing, residential and commercial customers can have peace of mind knowing their roof will be taken care of, complete with a warranty and satisfaction guarantee. Furthermore, thanks to our same-day service, your roof can get the attention it needs right away.
Get in touch with us today at (385) 442-9482 or right here online to set up a free estimate appointment.