Commercial Roofing Services dISCOVER tRUE eXPERTISE wITH jORDAN rIVER
Years of Experience

For over 15 years, our team has been providing a high level of customer service and experienced work.

Your Satisfaction Guaranteed

Our team is dedicated to providing high-quality, long-lasting roofing services for your property.

Quality Materials

Our work is supported by the best materials and quality workmanship to ensure you get the best results.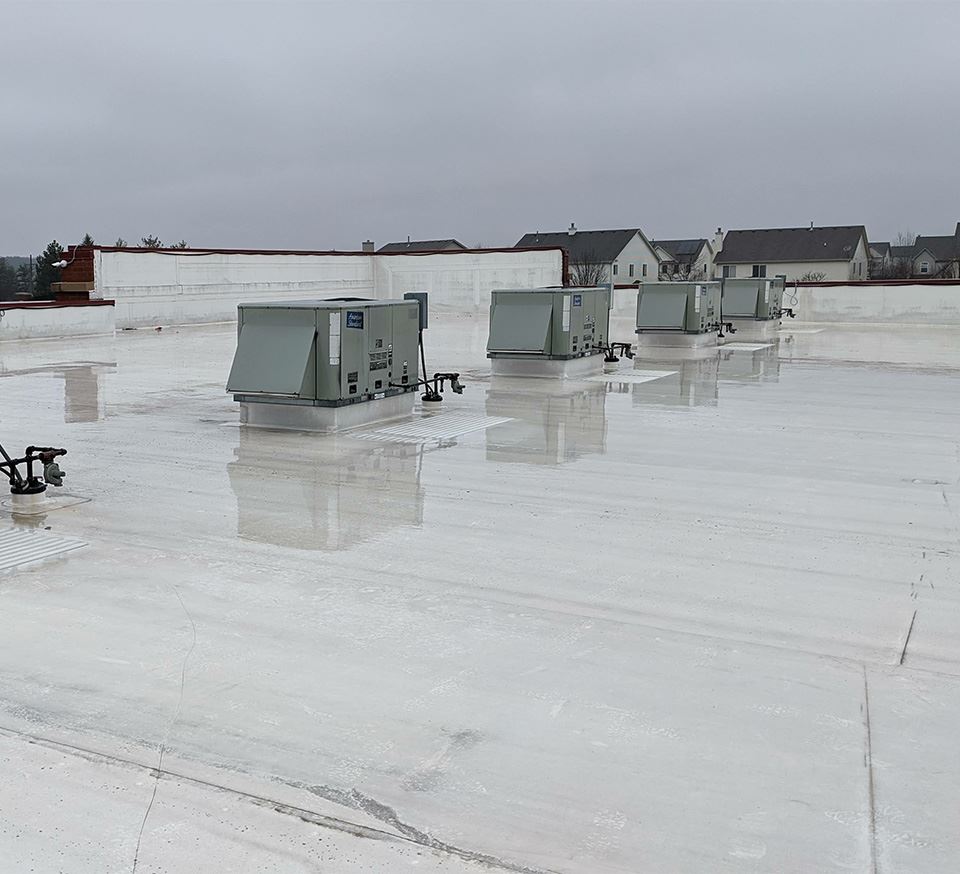 Taylorsville Commercial Roofing
Inadequate roofing can have a major impact on any business, with negative results for both productivity and property value. The good news is that our reliable Taylorsville commercial roofing company is here to help. We collaborate with clients to make the most suitable decisions when it comes to replacing their roof and provide guidance for future needs.
We specialize in single-ply TPO and EPDM roofing materials, which are both durable and cost-effective commercial roofing options. With over 15 years of experience, we have the skills and knowledge needed to install your roof with precision. To get a single-ply roof installed by our licensed and insured crew, contact us today.
Is It Time to Replace Your Worn-Out Roof?
Even the sturdiest commercial roofing systems will eventually need to be replaced. If your roof has seen better days, turn to Jordan River Roofing, LLC for roof replacement services. In addition to TPO and EPDM roofing, we also service asphalt, tile and metal roofs. We'll tear off your roofing system and replace it with sturdy materials. Once we're done, you'll have peace of mind knowing that your roof is protected.
Jordan River Roofing serves commercial customers throughout Salt Lake County. Call our office today at (385) 442-9482 or reach out here online to set up a free estimate.
THE REVIEWS ARE FLOWING IN
See What Our Customers Are Saying
At Jordan River Roofing, your satisfaction is our priority! See for yourself what our customers have to say about working with us.
"Seriously top notch service."

We are in the process of selling our house and during inspection a leak in our roof was reported and needed to be taken care of right away. Highly stressful situation. I gave Jordan River Roofing a call and they were out the very next day!

- Kristen P.

"Wow. Excellent service and an incredibly responsive team."

Wow. I went from someone who knows nothing about roofing, to feeling quite confident that I made the best decision possible. I am very grateful for the education, the excellent service, and the reasonable price.

- Amy B.

"I cannot say enough good things about this company."

I cannot say enough good things about this company. From the moment you meet Phil you are filled with confidence in his expertise and trustworthiness. His team was professional, and courteous, and performed work of exceptional quality.

- Deni W.

"They are extremely knowledgeable!"

Phil and his crew did a phenomenal job on my re-roof. Quality and service for a very reasonable price. I could not have asked for a better-finished product - from tear down to installation, these guys kept everything clean!

- Keven M.

"Very happy with everything about the project."

Phil and his crew were great to work with and did an excellent job. Went above and beyond. Project was completed before the time it was supposed to be. Very happy with everything about the project. Highly recommend.

- Joe C.

"Very, very pleased with the new roof."

The roof was completely redecked, along with necessary soffit repairs: excellent, professional expert work! Very, very pleased with the new roof. I would highly recommend Jordan River Roofing for all roofing projects. Highly recommended!!

- Judy M.

"Phil and his crew did a fantastic job on my roof."

Phil and his crew did a fantastic job on my roof. Great price and was there when they said they would be. Stripped and shingled my roof in 1 day. That crew worked hard all day. The cleanup was unbelievable. I will recommend them to everyone.

- James K.

"Worked Quickly and Efficiently!"

I had Phil do a complete re-roof. His crew worked quickly and efficiently. Got the whole thing done in 3 days. I will have Jordan River Roofing on all my residential roofing jobs from here on out.

- Benjamin E.
The Benefits of Single-Ply TPO Roofing Materials
Single-Ply TPO (Thermoplastic Polyolefin) roofing materials are fast becoming a popular choice for those seeking durable, cost-effective, and energy-efficient solutions for their commercial roofs.
TPO's toughness makes it highly resistant to punctures, tears and other damages that can occur due to heavy winds or falling debris. And that toughness does not come at the expense of flexibility. TPO can be easily wrapped around corners and curved sections of the roof with ease.
Additionally, its reflective characteristic helps keep the interior of the building cooler, which significantly reduces energy costs by placing less strain on the HVAC system on a hot day. This also maximizes the durability of your roof by protecting it from UV rays.
Contact Our Taylorsville Commercial Roofing Professionals
Help your commercial property stayed protected with assistance from Jordan River Roofing, LLC. Call the office today at (385) 442-9482 or contact us online to set up a free estimate.