Sandy Roofing Services
Jordan River Roofing serves customers throughout Salt Lake County, with our residential and commercial roofing services. Offering free estimates, we can be reached at (385) 442-9482 or by reaching out here online.
Salt Lake County Roofing You Can Rely On
Jordan River Roofing stands by our work with both a warranty and a guarantee of satisfaction. Furthermore, we offer same-day service, so our customers don't have to wait even a second longer than necessary to get their roof looked at and worked on.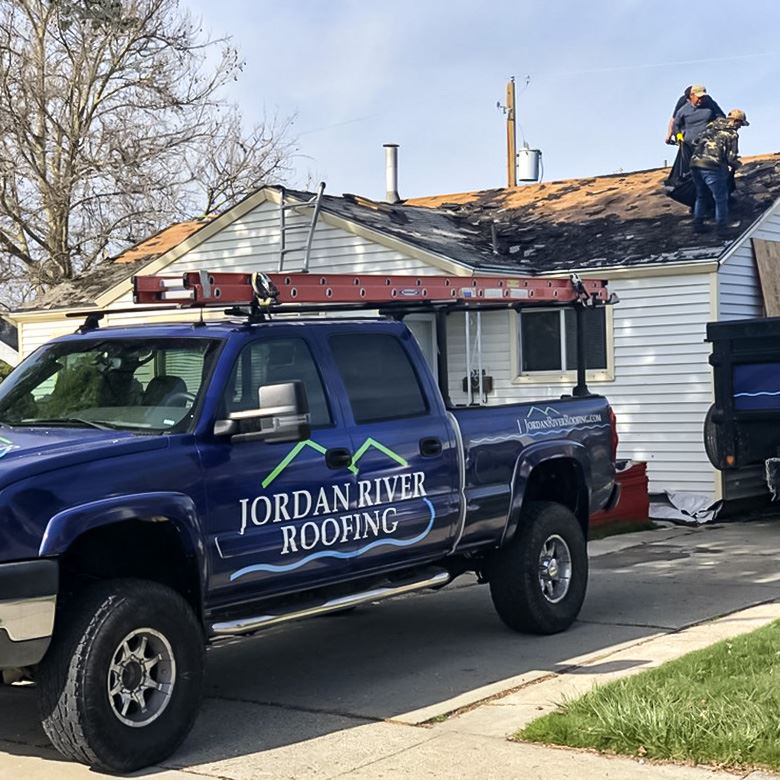 The Reviews Are Flowing In See What Our Past Customers are Saying
At Jordan River Roofing, your satisfaction is our priority! See for yourself what our customers have to say about working with us.
"Seriously top notch service."

We are in the process of selling our house and during inspection a leak in our roof was reported and needed to be taken care of right away. Highly stressful situation. I gave Jordan River Roofing a call and they were out the very next day!

- Kristen P.

"Wow. Excellent service and an incredibly responsive team."

Wow. I went from someone who knows nothing about roofing, to feeling quite confident that I made the best decision possible. I am very grateful for the education, the excellent service, and the reasonable price.

- Amy B.

"I cannot say enough good things about this company."

I cannot say enough good things about this company. From the moment you meet Phil you are filled with confidence in his expertise and trustworthiness. His team was professional, and courteous, and performed work of exceptional quality.

- Deni W.
Roof Repair & Installation
Roofing repair and installation services are a mix of short-term necessity and long-term investment. A quality roof will not only keep a home safe from damaging weather, but is likely to increase its resale value and improve the curb appeal. The Sandy roofing contractors at Jordan River Roofing can provide both repairs and replacements for any type of roof.
The decision as to whether repair or roof or decide to go all-in on replacement is a big one for a property owner. The short-term costs have to be weighed against the long-term benefits. Important decisions have to be made regarding what types of materials to use with a new roof. What customers need in this moment is for their contractor to really listen to them—to understand their long-term goals for their property. Customers need their contractor to really lay out the pros and cons of each side, as well as the advantages and disadvantages of different types of roofing material.
At Jordan River Roofing, our Sandy roofing professionals know that our job is twofold. It certainly starts with producing a top-quality product, and the confidence we have in our work is demonstrated by our guarantee of satisfaction. But it also includes the ability to listen to customer needs, and to clearly communicate options. We want our customers to be happy, both now and twenty years from now. And that commitment undergirds and animates all of our actions.
Inspection & Maintenance
The easiest repair to fix is the one that never happens—or, at the very least, is found and addressed in the crib. That's the purpose behind our routine maintenance services. Our Sandy roofing techs have the experience to recognize signs of wear and tear, from missing shingles to water damage and more.
Furthermore, roof inspection is often necessary for reasons ranging from insurance claims to due diligence from a prospective home buyer. Contact Jordan River Roofing either by calling (385) 442-9482 or by filling out our online contact form today.
Attic Ventilation
Attic ventilation offers a range of benefits that include protecting the value of the property and protecting the personal health of all who live there. When an attic doesn't have good air flow, moisture can build up. That moisture results in the growth of mold and mildew. What are the consequences of mold and mildew? They start with wearing away on the structural integrity of the house. They continue by damaging air quality. Air that has mold or mildew in it is not healthy to breathe, and can be particularly damage to anyone with a respiratory condition. All of which is good reason to avail oneself of the attic ventilation services at Jordan River Roofing.
Commercial Roofing
A bad roof situation is damaging to a business on several fronts. Leaks and bad air create uncomfortable work environments, which can diminish productivity. The health effects of bad air not only impact work performance, but they can turn into a legal liability for the business owner. And ultimately, a shaky roof is as damaging to the resale value of a commercial property as it is to a residential home.
Call today at (385) 442-9482 or contact us online to arrange for a free estimate.